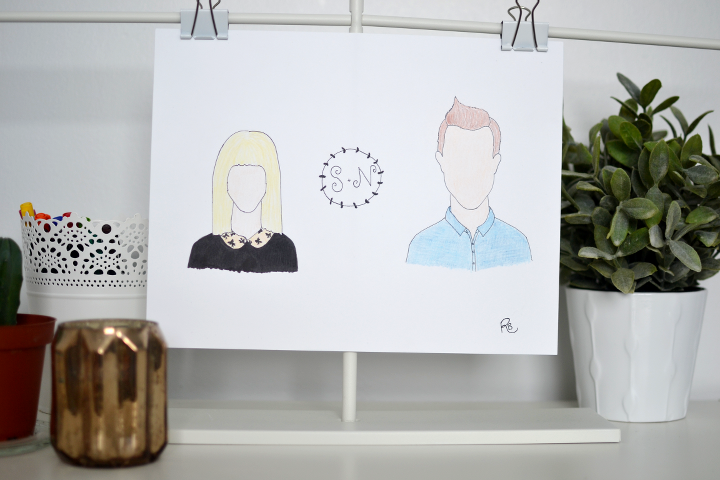 So there's something about me you may not know.
I draw.
It all started when I was in elementary school.
My best friend and I would spend hours and hours just drawing and talking.
Then I stopped.
The thing is I am my own worst critique.
Certain talents or hobbies I have I feel I could do better, but I can't so I stop.
(wow how many times can you put "I" in a sentence.)
It's a bad habit and I'm trying so hard to quit.
That's why in November I started to draw again.
What happened was I wanted to get Adam and Alicia a self portrait for Christmas, and I had a distinct look I wanted.
I searched on Etsy for ever and ever but I didn't find the style I was looking for.
So... I decided to give it a go and make it myself.
And I did.
If you want to view the finished portrait, it's right over here.
Now the portrait above is another story.
Back when I posted the portrait I did during Christmas time I got a comment by a lovely blogger.
The lovely blogger I am talking about it Steph Hammer.
Chances are you have already read her blog, and if you haven't hop on
over
.
Trust me, it's the bomb.
She is absolutely incredible and I am still flabbergasted that she asked me to draw a portrait for her.
So here's more exciting news.
I've decided to draw a portrait for free for one of you!
All you have to do is follow my blog on bloglovin
(over here)
, and leave a comment.
I will choose the winner on March 27th.
Also I have another giveaway coming up on Monday!
So come back then to find out what it is :)