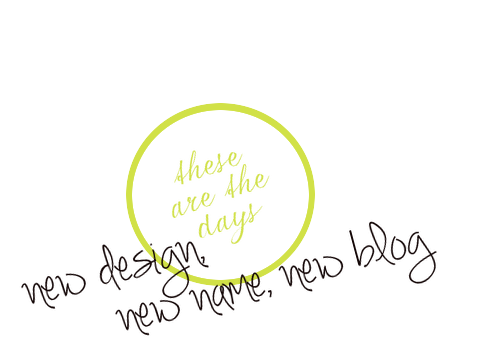 A change on the blog, once again.
By now, none of you should be surprised.
But this time it isn't just a design change.
First: Name change
Yes I did change the name.
I found that A&B was just too generic.
So I slightly tweaked the lyrics to a song I loved when I was younger.
"These are days, we'll remember."
Everyday should be remembered.
Especially these days.
Second: Tutorials
I was surprised at the response I got about doing design tutorials.
And since I have become to love designing my blog, and learning some great tricks, I thought it was about time I shared with you all!
So stay tuned for some fun how-tos!
Third: Design
I was a little sick of the lack of colour on my blog.
Why not have a little pop of green?
Fourth: Videos
I want to have a better communication with my readers.
So this is where you all come in.
I just added a FAQ page, and I would love to get questions from all of you!
I am also toying around with the idea to some videos.
Any suggestions?
Fifth: Content
Now even though there are quite a few changes, the content will be the same.
Well mostly.
This blog will still be first and foremost a lifestyle blog, but I want to branch out more.
DIYs, tutorials, photography, a place to post my inspirations, collaborations, and giveaways.
After reading
this post
by one of my favourite blogs, I thought I would jump on the bandwagon of change.
And not just a design change this time.
I want to step out of my comfort zone a little, and try some new things.
So get ready.
It's going to be a blast!