Day 117 - April 26, 2012
--------------------------------------------
Tid + Bits
1. Starting a new book "Death Comes to Pemberley". Has real promise!!! I've been reading up a storm the past week. Read 5 books, now on the 6th!
2. This song has been on repeat for 3 days now. Pretty much my favourite thing of life, Disney and Grace Potter! Stellar combo if I do say so myself!
3. I think I desperately need to go through my bags.. and my clothes... and my shoes. I have Monday off so hopefully I can tackle this stack of bags! At least organize it if anything!
4. I love notes from my co-workers! They are always all over our back desk. Swagner loves you girls!!!!!
5. Wore a pattern on pattern today. Wanted to mix it up a bit. And simply because you can't have too much pattern, I wore my cheetah infinity scarf as well! Overkill? I think NOT!!!!
And of course linking up to the lovely Alycia :) She's a gem. Random fact: Our brothers served in the same mission, and neither of us knew until months after we followed each others blog. Weird right???!!! :)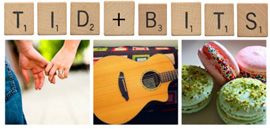 Bekah