Tid + Bits
1. Since Norah's baby shower was last week I have spent the last few getting her gift together. Probably my favourite gift was a Pride and Prejudice counting book for babies. It is incredible!
2. Browsing through old family photos are pretty much the most entertaining thing ever. Apparently I was admiring the ceiling in this one... Yeah I don't know.
3. One of my dearest friend had her second baby. Little Owyn met Norah for the first time, and it is official, their arranged marriage has commenced!!!
4. Rocking the Mockingjay pin at work. Customer points to it and says: "That pin is the most popular accessory at the elementary school I teach." My response: "Yeah.. I'm 21, and I'm wearing it in all seriousness..."
5. Baby shower decorations!!! Giant candle sticks with flowers in them. Success!
6. Nickname at work is Swagner. I'm surprised no one has thought of this until now, because clearly I have so much swag!!! :)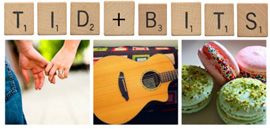 Bekah